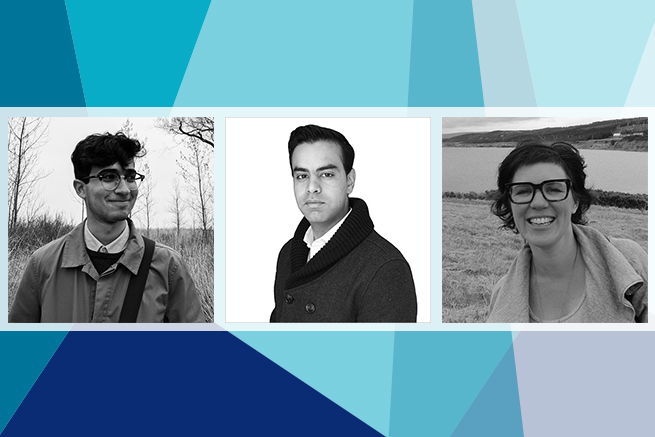 OTTAWA, July 12, 2017– The Royal Architectural Institute of Canada (RAIC) and the RAIC Foundation are delighted to announce the three winners of the 2017 Moriyama RAIC International Prize Scholarships.
They are:
Osman Bari, University of Waterloo
Alykhan Neky, Ryerson University
Tanya Southcott, McGill University
Each has won a $5,000 scholarship for writing an illustrated 1,000-word essay on the following topic: Please describe the moment—the circumstances, the nature of the event—when you decided to become an architect, or when you knew that your decision to become an architect was the right one. 
The Moriyama RAIC International Prize Scholarships are presented in conjunction with the $100,000 Moriyama RAIC International Prize. The prize winner will be announced on September 19 at a gala in Toronto, where the scholarship recipients will also receive their cheques.
Gala tickets are now on sale at http://moriyama.raic.org/gala.
The RAIC received 180 eligible entries in both English and French from students enrolled in Canada's 11 accredited schools of architecture as well as students at Laurentian University, the RAIC Centre for Architecture at Athabasca University, the RAIC Syllabus Program and the University of Quebec in Montreal (UQAM).
"These essays involve a return to some of the authors' formative experiences," says RAIC President Ewa Bieniecka, FIRAC. "Travel, work opportunities, and education make incredibly strong impressions, as each entrant begins to understand the diversity that exists in this world. They know that to complete their journey as architects will require deep commitment. As such, each of this year's winning essays speaks of social relevance."
For Osman Bari, his high school cricket pavilion and its evocation of the team's continuing history yet always changing members clarified his sense of how architecture weaves together individual lives with place and history. He extends the "web" of memory to other places, describing how a courtyard gave space for the shared humanity of students in a childhood school which otherwise reinforced differences of class and ability. Both places "led me to architecture; showing me that there exists the possibility to create transformative and emotional spaces for all of our lives to unfold."
Jury Comment: Bari's political understanding of the "double-edged sword" of architecture is profound.
Growing up with dinner table conversation about international development, Alykhan Neky believed "architecture could also foster community self-reliance." His conviction grew during a trip to Kenya where he saw a sharp contrast between local buildings versus imported architecture from the West. Neky is now exploring the role of the architect in the creation of contemporary buildings that serve as expressions of collective culture. He has proposed building designs for a rural Maasai community in Kenya which, like the vernacular tradition, would use local materials, and continue the tradition of self-building – which among the Maasai is done by women.
Jury Comment: An ambitious vision for how the author plans to use his training as an architect to address third-world living conditions in a culturally sensitive manner.
Tanya Southcott was at McGill University when a slide of the rooftop of Le Corbusier's Unité d'habitation in Marseilles was shown without mention that Canadian architect Blanche van Ginkel had worked in Le Corbusier's office, and the roof was her project. This and so many stories of women in architecture are not widely known. At that moment, Southcott saw the need and opportunity to tell those stories that "threatened to slip through the cracks of architectural history… I sensed my own potential to collect some of these fractured, falling pieces and to rebuild them in a different form."
Jury Comment: The piece is deeply personal in the experiences it recounts, and in Southcott's determination to address historic wrongs through her work as an architect-turned-architectural historian.
A five-member jury evaluated the submissions based on the applicant's expression of vision and aspiration, and on the strength of personal conviction.
The jury members are:
Elsa Lam, MRAIC, editor of Canadian Architect magazine;
Cheryl Atkinson, MRAIC, principal of Atkinson Architect in Toronto and associate professor at the Department of Architectural Science at Ryerson University;
Shirley Blumberg, FRAIC, founding partner of KPMB Architects in Toronto and a member of the Order of Canada;
Terrance Galvin, MRAIC, founding director of Laurentian University's McEwen School of Architecture;
Paul Laurendeau, principal of Atelier Paul Laurendeau in Montreal and a 2016 recipient of a Governor General's Medal in Architecture.
 
"The jury was moved by the heartfelt responses evident in so many of these scholarship submissions, which expressed an inspirational range of personal stories about individual paths into the profession of architecture," said Elsa Lam, who served as chair. "We wish each entrant the best of success and a continuation of their passion as they pursue their education and careers in architecture."
ABOUT THE RAIC
The Royal Architectural Institute of Canada is the leading voice for excellence in the built environment in Canada. Representing about 5,000 members the RAIC advocates for excellence, works to demonstrate how design enhances the quality of life and promotes responsible architecture in addressing important issues of society.
For more information:
Tanner Morton
Communications Coordinator
tmorton@raic.org
705-768-0601
---
Describe the moment when you decided to become an architect:
"Thank you for the honour of this important scholarship, and for giving students the voice to help shape the conversation around critical issues facing our profession."
 
Tanya Southcott, 2017 scholarship recipient