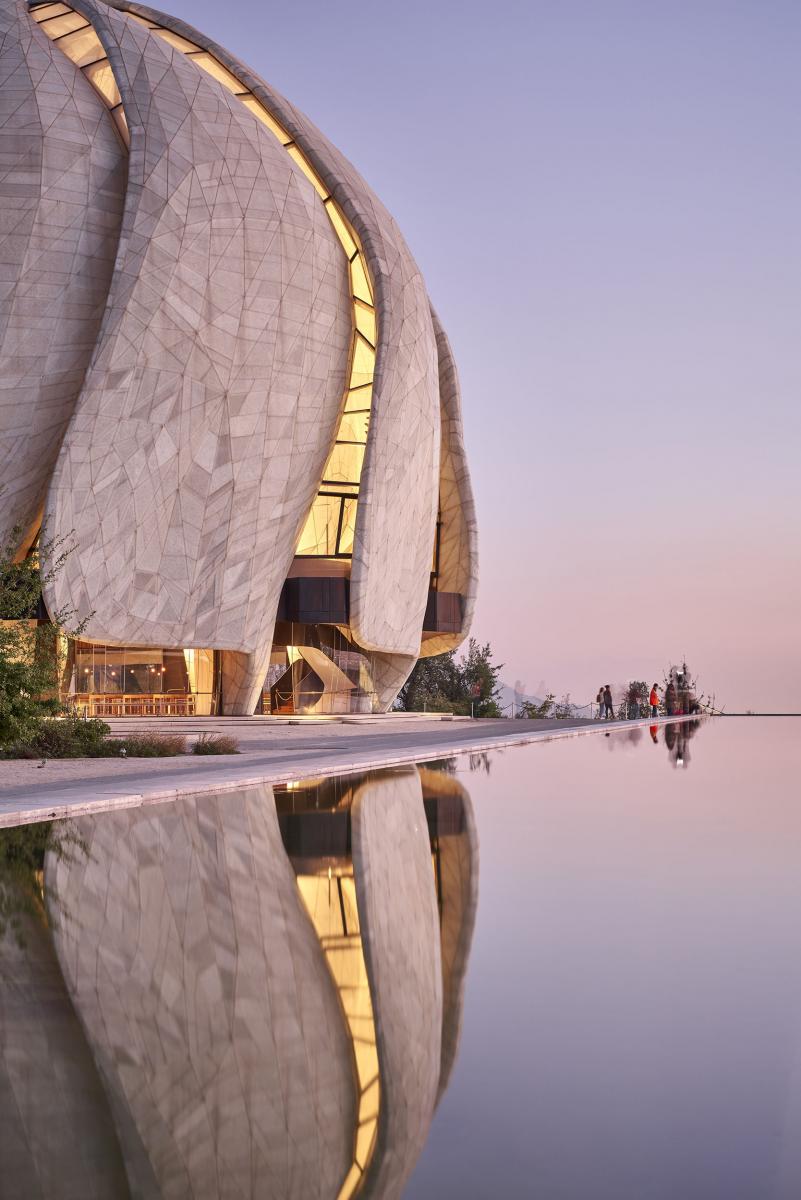 Photo by doublespace photography
Baha'i Temple of South America, Santiago, Chile
Hariri Pontarini Architects (Toronto, Canada)
Completion:  October 2016
2,416 m²
Construction budget: CAD $36 million
Located on the edge of Santiago, Chile and nestled against the Andes mountains, the Baha'i Temple of South America is designed to be a place of welcome and meaning for everyone. Its design aspires to commonality within diversity, and its 14-year realization brought together hundreds of local volunteers as well as artisans, engineers, and craftsmen from several countries.
The temple is designed to come alive with light. Its nine gracefully torqued wings, bound to an oculus at the top, are made of an outer layer of cast-glass panels and an interior layer of translucent marble from Portugal. The invention of this new material – cast-glass cladding – took four years of experimentation and collaboration with a Canadian glass artisan. The soft light that filters through the wings bathes the interior of the temple in warmth and changes throughout the day, contributing to a sense of both weightless movement and permanence.
The interior spaces of the temple are designed to invite people to come together and sit in quiet contemplation. An alcoved mezzanine offers a space to seek solitude while remaining connected with the community below. In contrast with the intimacy and delicacy of the interior, the building was engineered to weather a rugged climate and an earthquake-prone region for hundreds of years.
The Baha'i Temple embodies the human aspiration to connect with one another. Since its opening in 2016, it has attracted over 1.4 million visitors.  The temple holds an important place in the Chilean community, hosting community clubs, youth outreach programs, and children's activities in partnership with public schools. The temple is a timeless place where people can feel calm, connected, and uplifted, whatever their beliefs.
 JURY COMMENTS
"The architects resolve a challenging and prescriptive program for a new Bahai Temple in Santiago with a powerful form that creates a new landmark – a jewel – in a dramatic natural setting."
"The result is timeless and inspiring, a building that uses a language of space and light, form and materials, to express an interpretation of Bahai philosophy and teaching that becomes universally accessible as a shared spiritual and emotional experience."