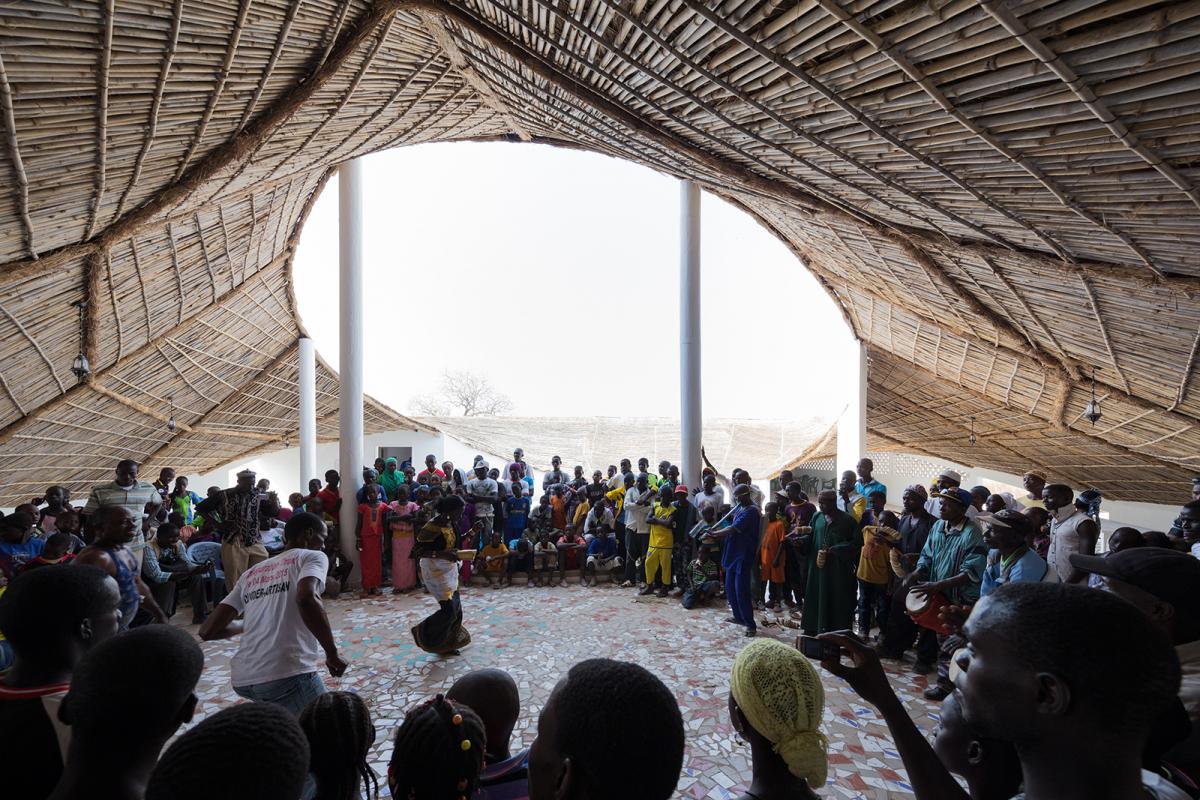 Photo credit: Iwan Baan
Thread: Artists' Residence and Cultural Center, Sinthian, Senegal
Toshiko Mori Architect (New York, USA)
Completion:  March 2015
1,048 m2
Construction budget: $269,186 CAD
 
Located in a remote community seven hours from Dakar, the capital of Senegal, and near the border of Mali, Thread: Artists' Residence and Cultural Center serves as a cultural and social hub for a network of isolated villages.  In addition to housing an artists' residency for local and visiting artists, the centre serves the community as a gathering space, performance centre, public library, tree nursery, water source, and base for agricultural training and economic development.
The design inverts the traditional pitched roof, creating shaded studio areas around the perimeter of a courtyard. The inversion of the roof allows for the collection and storage of rainwater in cisterns, providing a viable water reserve during the region's eight-month dry season. Inspired by local building techniques, the design used only local materials, including bamboo and compressed earth blocks made on site. Project management was carried out by local villagers, giving the community a further sense of ownership.
The evolving functions of Thread's building have allowed it to quickly become a part of community life and help villagers improve their lives. For example, dance festivals have fostered cultural exchange among the region's many ethnic groups. A visiting weaver encouraged and taught local women to revive the local art of cotton spinning and weaving. Over 100 women formed a co-op to grow vegetables in Thread's gardens, feeding their families and generating income. And the centre has hosted a highly popular regional soccer tournament. All of these activities have helped to improve social cohesion in a region that is ethnically diverse and whose youth are drawn into clandestine migration.
JURY COMMENTS
"The jury appreciated the simplicity of the material palette and the honesty of the detailing and architectural language. . . .The flowing curves of the thatch and bamboo are a celebration of local technology and craft, and provide a tangible symbol of Thread's basic mission: gathering, shelter and support."
"Thread has become a true centre of the community, an inspiring example of what a close-knit community can do with a modest budget, an imaginative design team and many hands and minds working together."