Stade de Soccer de Montréal
Montreal, Quebec 
Architects: Saucier+Perrotte / HCMA Architects in joint venture 
Date of Occupancy: April 2015 
Size: 37 400 square metres
Construction budget: Phase 1 - $35.7 million CAD / Phase 2 - $ 3.2 million CAD
Client: Ville de Montréal
Architect:  Gilles Saucier
PICTURES
PROJECT & CONSULTING TEAMS
The history of the Complexe Environnemental St-Michel (CESM) is marked by radical changes and transformation. At first a quarry, then a dumping site, CESM is now being repurposed as one of Montreal's biggest parks with a focus on the environment and sustainable living. 
The CESM Stade de Soccer emerges from the park's artificial topography as a mineral stratum recalling the geological nature of the site. The mineral "layer" is articulated by a continuous roof which cantilevers over the entry plaza, folds down over the interior soccer field and extends to the ground to accommodate spectator seating for the outdoor field. Simultaneously reacting to the site and the requirements of the program, the dramatic roof structure gives a distinctive and unified presence to the complex.
Elements of the program are organized efficiently by taking advantage of the linear site and the circulation patterns of different user groups (such as players, spectators and park visitors). The program is divided into two levels. Each level is organized using a main circulation corridor that links the interior to the exterior. On the public entrance level, the corridor is continuous from the plaza through to the lobby and main public spaces, providing direct access to the stands. On the lower level, the corridor extends toward the exterior playing field where it connects to the exterior stands.
Along Papineau Avenue, the architecture adapts itself to the existing landscape by embedding its supporting functions within the berm. This siting scenario accommodates an elevated pedestrian path and preserves the existing trees. A series of glass boxes emerge along the edge from the augmented landscape to provide daylight and views to the interior spaces. A large crystal box at the south contains the main lobby, signalling the center's main entrance. These luminous elements and preserved vegetation give the architecture a human scale that respects the residential neighbourhood it faces while the transparency of the building promotes a sense of openness and community connection. The connection achieved between the building and the community is the most important aspect of the design.
The CESM Stade de Soccer is a part of the community in multiple ways, becoming an important gathering place, playing a vital role in the day-to-day well-being of its patrons and in the broader health of the community. There is no membership fee to be part of this team!
"They tend to run around and pretend they're famous football players. They do goal celebrations, shout and pretend they're being watched by a huge audience. It's fantastic to see how the splendour of the building can have this effect on them. That it can transport people to a different place, a different reality. The Stade de Soccer project makes them stars".
Jury Comments
"A splendid work of architecture that celebrates well-being on a grand scale."
"A wonderful exercise in community building that draws inspiration from the site and uses timber in innovative ways."
"A remarkable project based on an adventurous program."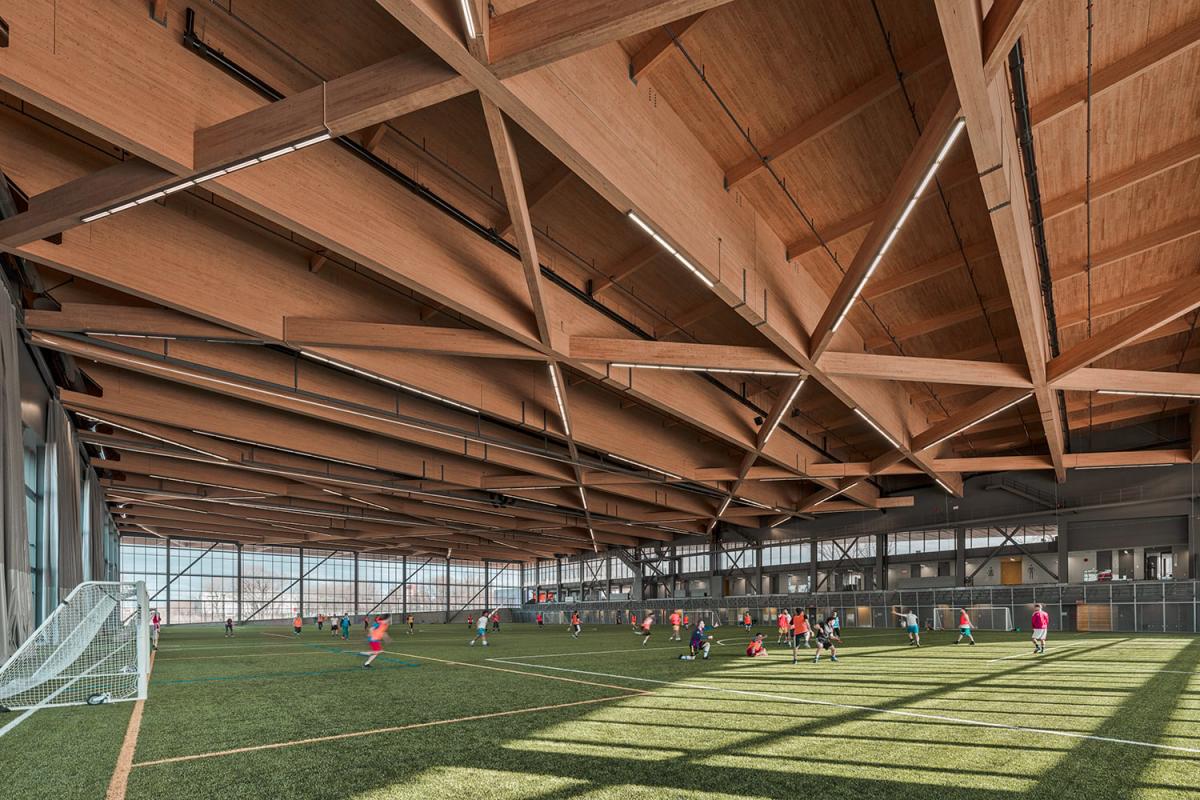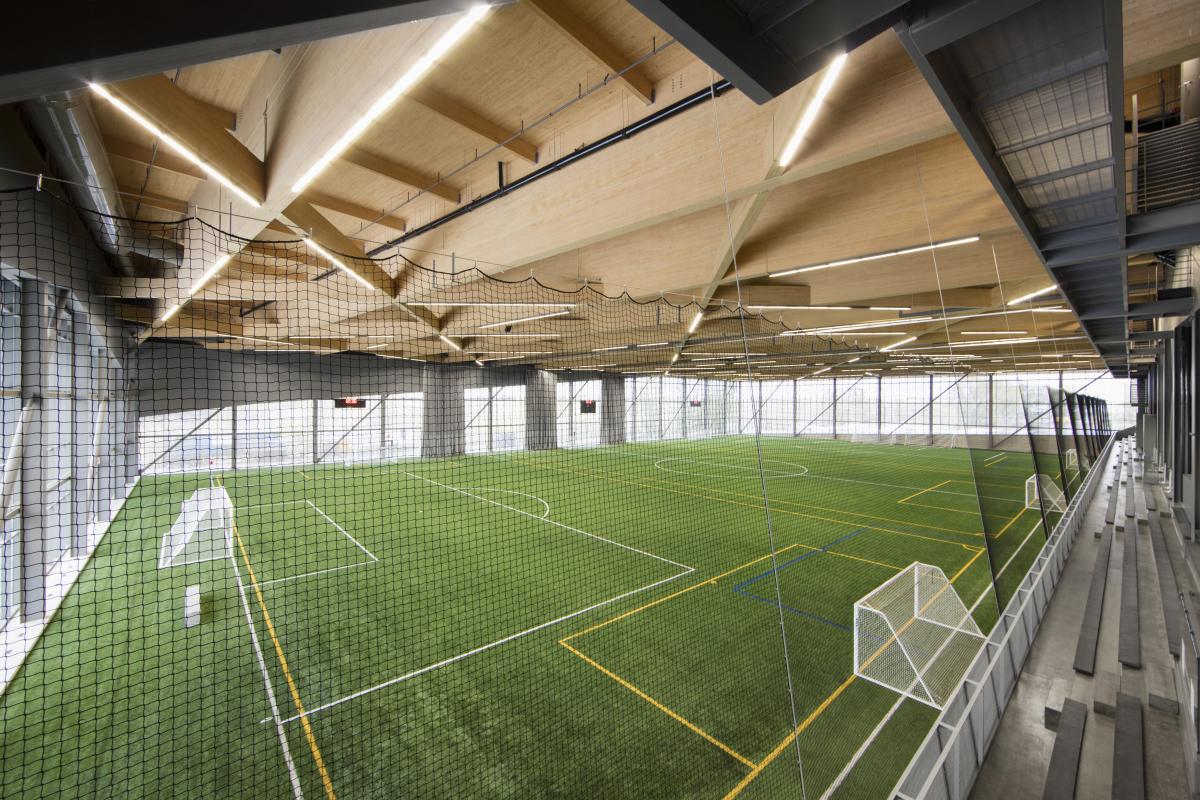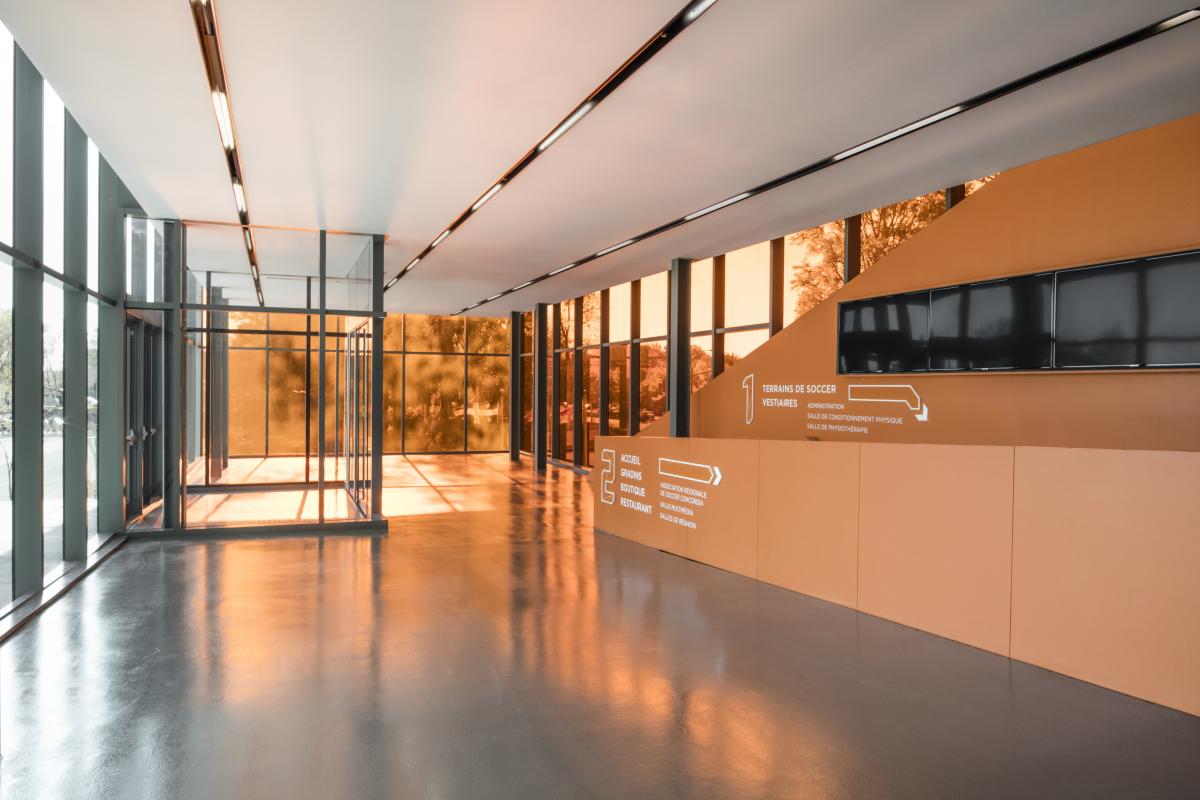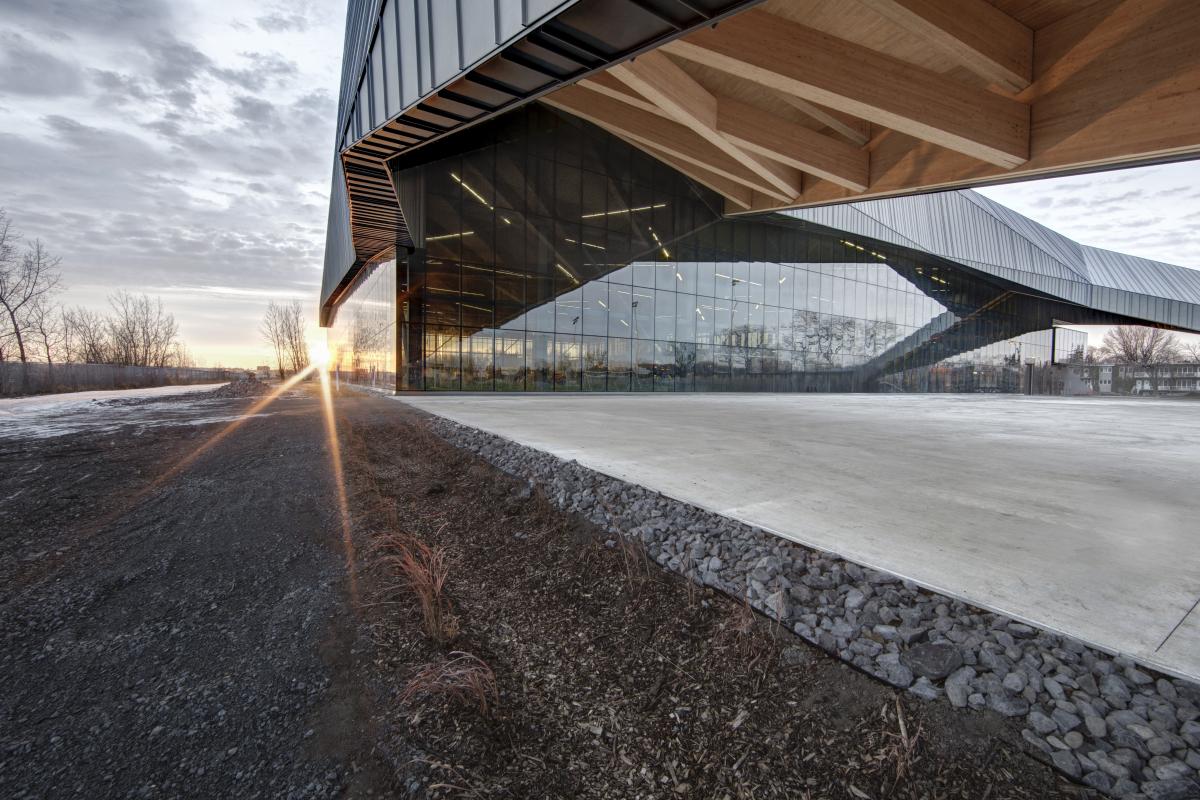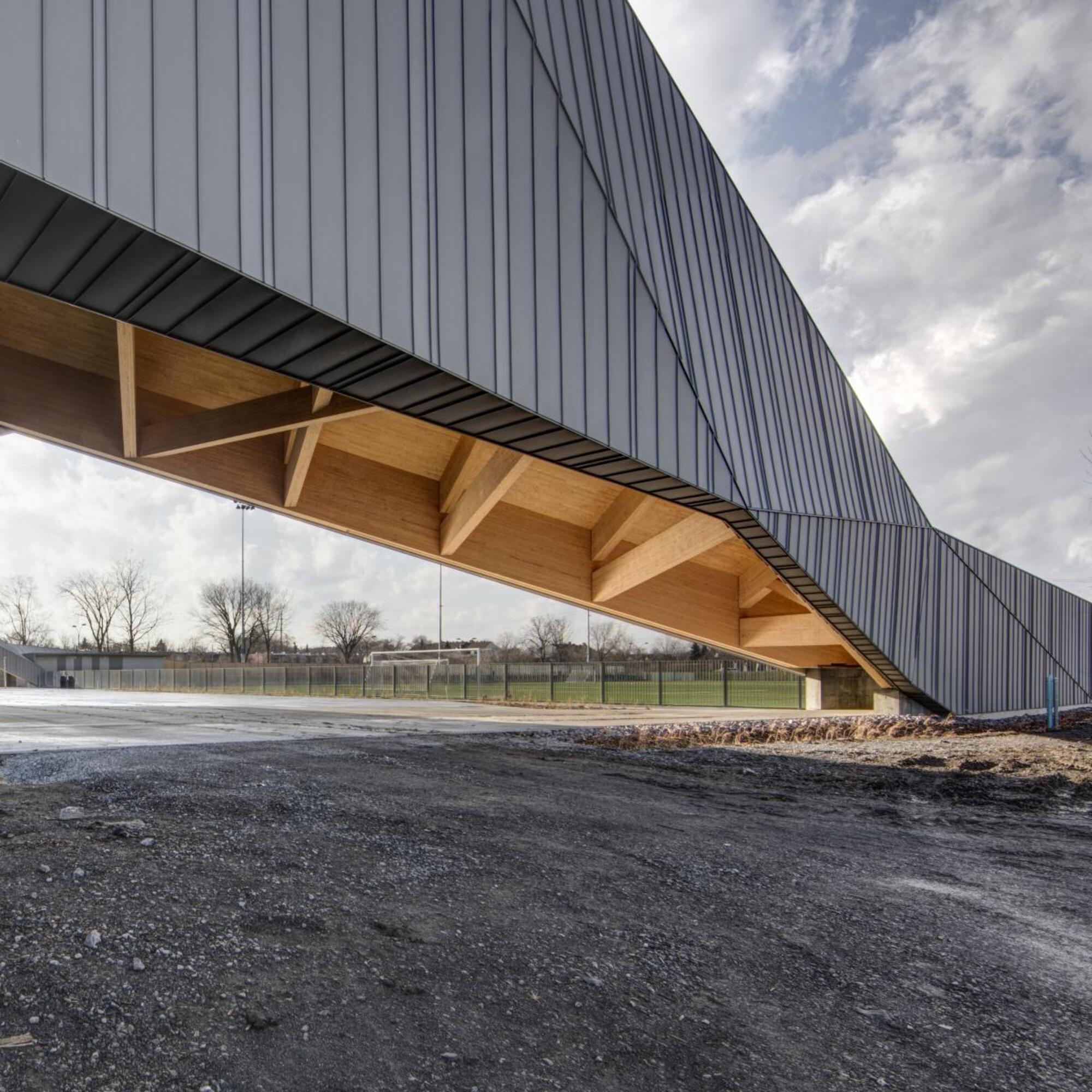 PHOTOS: OLIVIER BLOUIN

Project Team
Gilles Saucier, Lead Design Architect, S+P (Montréal)
André Perrotte, Architect Principal in charge, S+P (Montréal)
Darryl Condon, Architect, HCMA (Vancouver)
Trevor Davies, Project Architect, S+P (Montréal)
Michael Henderson, Architect, HCMA (Vancouver)
Lia Ruccolo, Architect, S+P (Montréal)
Patrice Bégin, Architect, S+P (Montréal)
Charles Alexandre Dubois, Architect, S+P (Montréal)
Leslie Lok, Architect, S+P (Montréal)
David Moreaux, Architect, S+P (Montréal)
Yutaro Minagawa, Architect, S+P (Montréal)
Vedante Balbahadur, Architect, S+P (Montréal)
Marc-André Tratch, Architect, S+P (Montréal)
Nick Worth, Architect, HCMA (Vancouver)
Nikolav Kalinov, HCMA (Vancouver)
Dominique Dumais, Architect, S+P (Montréal)
Consulting Team
Mechanical Engineer: Bouthillette Parizeau
Electrical Engineer: Bouthillette Parizeau
Structural Engineer: NCK Inc.
Civil Engineer: NCK Inc.
Landscpae Architect: WAA Inc.
LEED Consultants: Synairgis
Wood Structure: Nordic Structures
General Contracto: Groupe TEQ