The Warming Huts
Winnipeg, Manitoba 
Architects: Sputnik Architecture Inc. and numerous collaborators
Date of Occupancy:  February 2010 
Size: The Warming Huts vary from 10 square metres to, in the case of landscape interventions, up to 20,000 square metres. About 30 huts are installed each year.
Construction budget: Approximately $200,000 CAD annually
Client: The Forks Renewal Corporation c/o The Forks Foundation
Architect: Peter Hargraves
The Warming Huts project was conceived in 2009 to spark public use of sites in and around the confluence of Winnipeg's Red and Assiniboine Rivers. Known for centuries as Nistawayak, the area is most often referred to as the Forks, a National Historical Site and a key cultural development on a former railyard.
Once central to community life, these rivers were roadways and sources of sustenance for thousands of years before Europeans arrived. In the early 20th century, they were a regular site of daily activity in the form of ice chutes, skating rinks, ice harvesting areas and festivals. A key intention of the Warming Huts is to connect citizens with this past as well as to the urban potential of these spaces today. The project provides shelter on the rivers, that creates a space to connect with others, and excites the imagination. Each year Forks Renewal Corporation and Sputnik Architecture organize an international design competition to select three new huts from nearly two hundred entries. One hut is designed and built with students from the University of Manitoba's Faculty of Architecture, and another hut with a local secondary school or training program. While collaborating on these huts, students and members of the community learn about the conception and craft involved in creating the architecture of public space.
In addition, a prominent creator – from fields as diverse as architecture, filmmaking, and music – is invited to collaborate with Sputnik on design and construction of a hut of their own.
Urban space and the role of architecture in it become a subject of conversation every year. The design competition and invited artist program grab the public imagination – as well as garnering international attention – drawing eyes to a previously neglected urban site.  There are many kinds of huts – from a pine-bough shelter to a curling, brilliantly coloured skating path – but all are assembled and placed with a specific urban intention to connect parts of the city that are usually divided by water. 
The huts require craft and care in making.  They are re-used year after year and up to thirty huts are assembled on the frozen rivers each winter. They form an episodic but ultimately permanent architecture, echoing ancient forms like market or temple complexes. Like those, they are transformative: linking parts of a divided city; reconnecting citizens with healthy lifestyles and spirit of place; creating spaces of encounter and exchange; and drawing the eyes of the world to a creative little city in the middle of the prairies.
Jury Comments
"A game changer for Winnipeg that continues to attract attention from around the world."
"A project that has transformed the community with a dynamic festival that focuses on architecture and engagement with the river city in winter."
"An annual refreshing of ideas and ambitions that dances with the unpredictability of nature."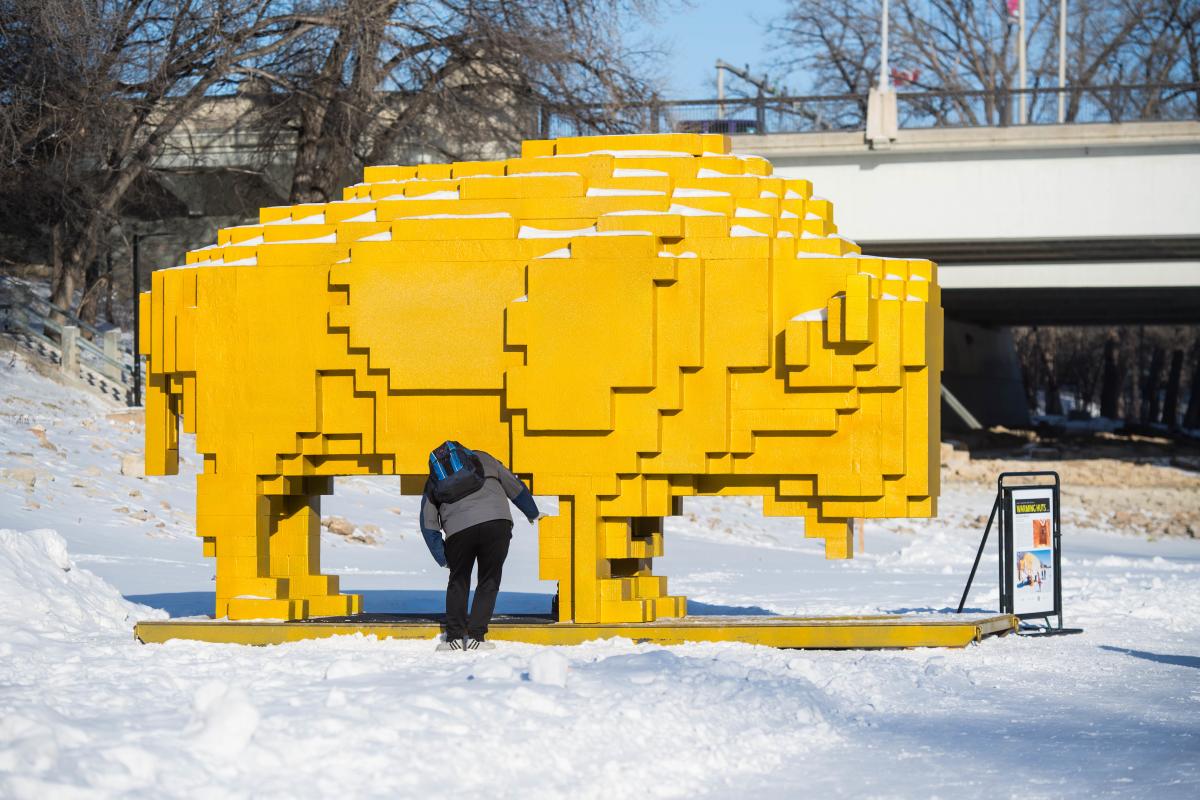 PHOTO: THE FORKS RENEWAL CORPORATION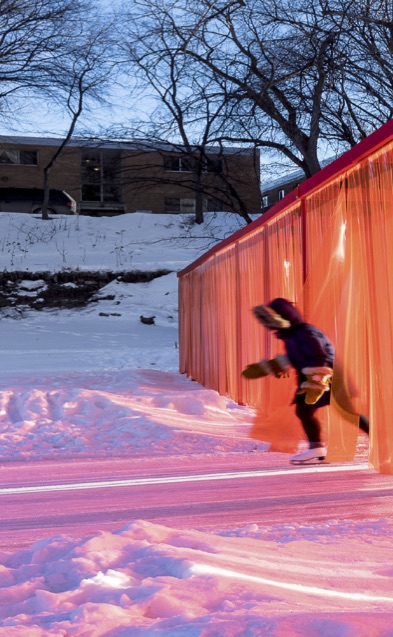 PHOTO: THE FORKS RENEWAL CORPORATION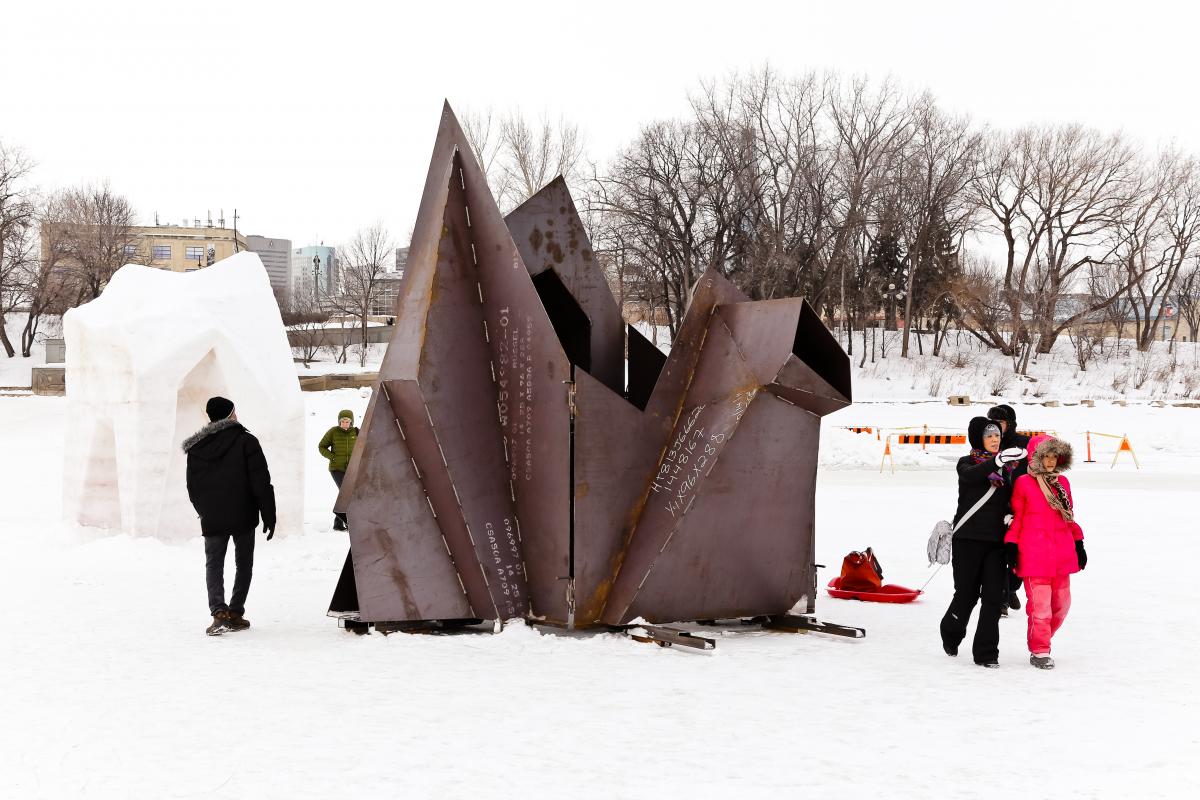 PHOTO: LEIF NORMAN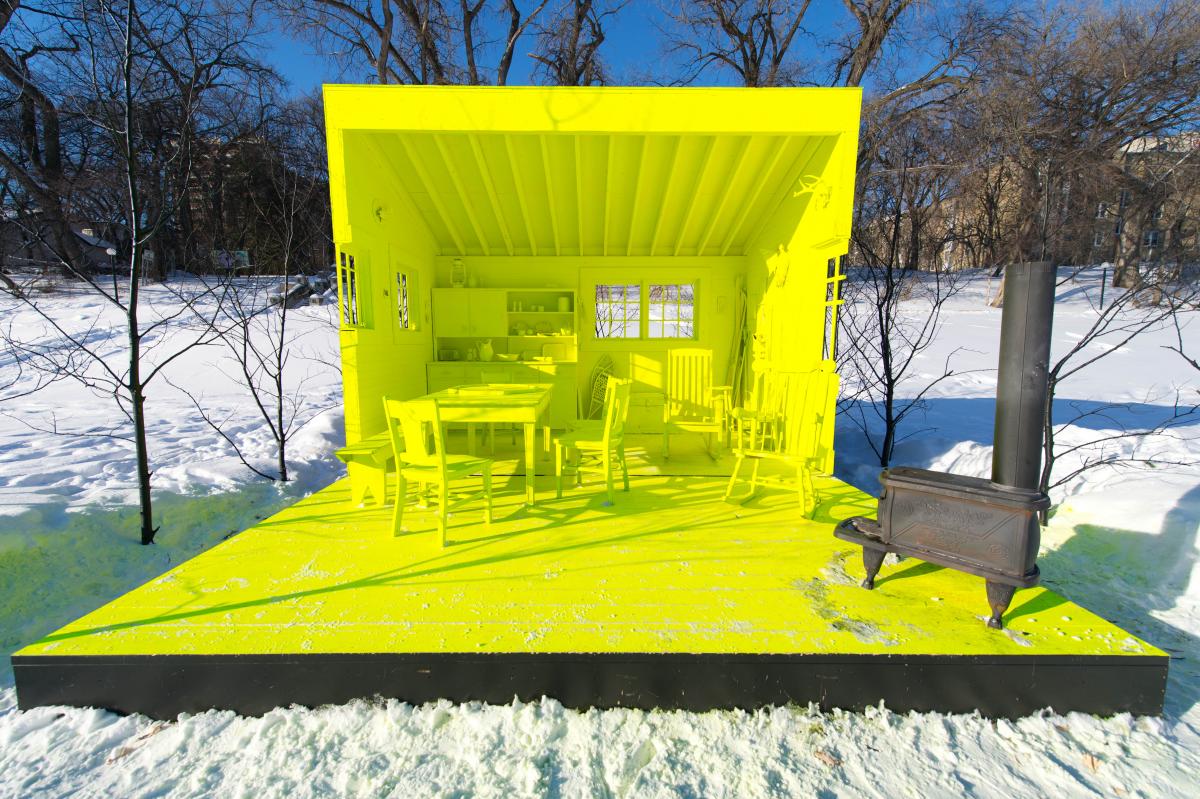 PHOTO: PIKE PROJECTS, PUBLIC CITY (FORMERLY PLAIN PROJECTS), AND URBANINK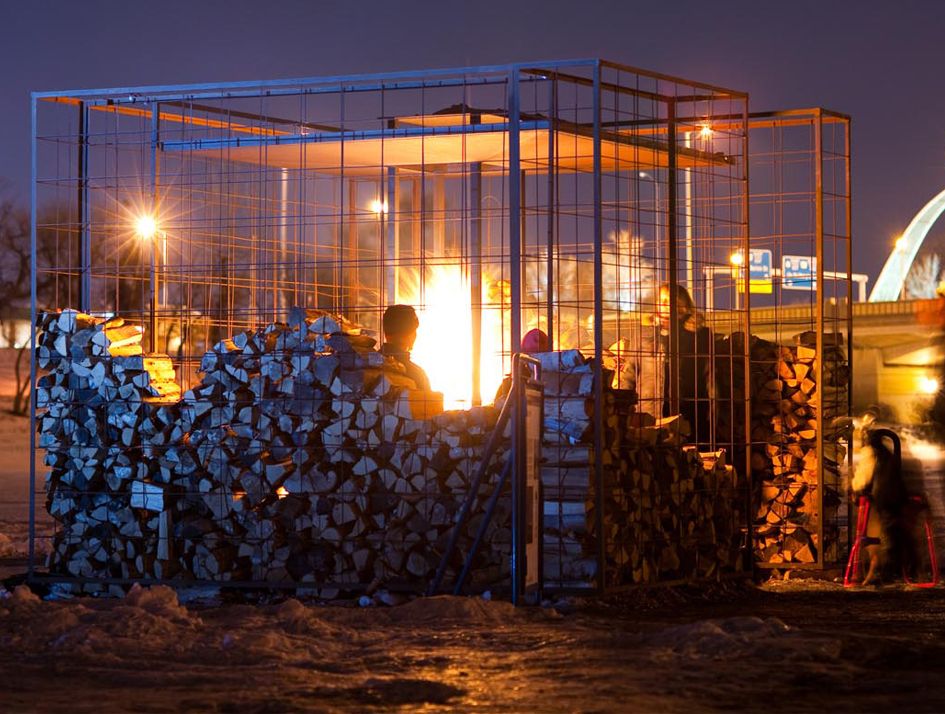 PHOTO: NOA BIRAN AND ROY TALMON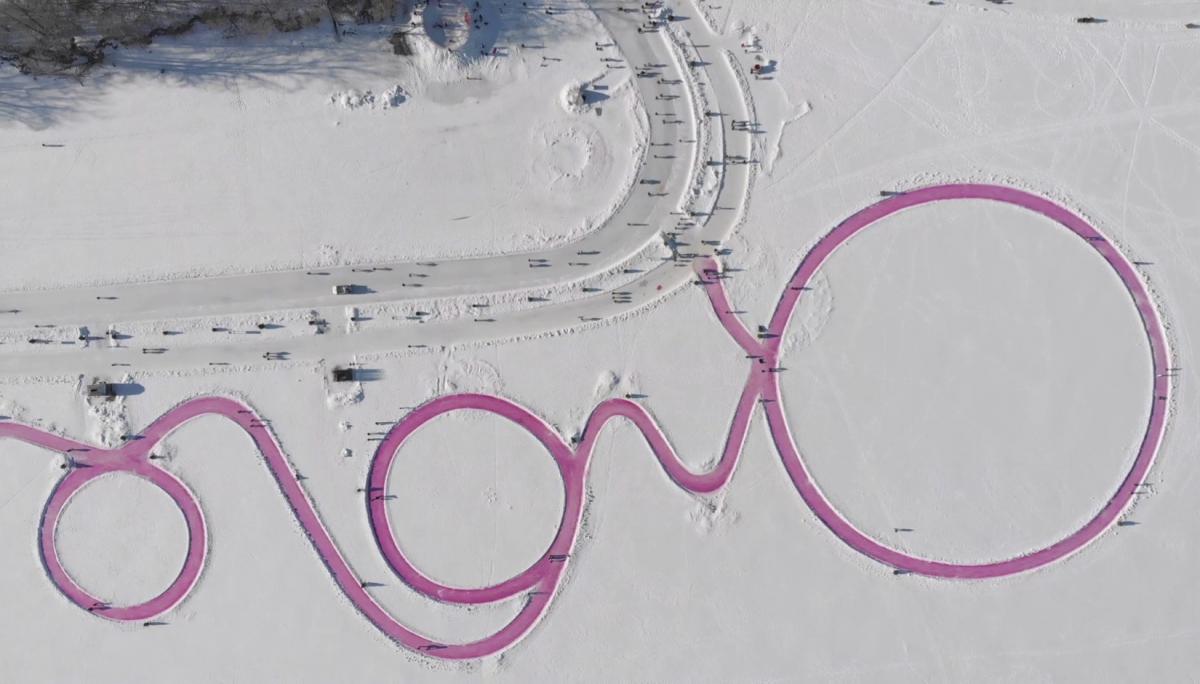 PHOTO: HANDCRSFT CREATIVE & THOMAS CHENEY
Our collaborators over the years have included the following:
2010: artist Jon Pylypchuk (Winnipeg); 5468796 Architecture with Ewa Tarsia (Winnipeg); 701 Architects with Merri-Lou Paterson (Winnipeg); Antoine Predock Architect (Albequerque, NM) with Scatliff + Miller + Murray (Winnipeg); Richard Kroeker with Neil Forrest (Halifax).
2011: Patkau Architects (Vancouver); Team Ha(y)ven (Transnational); Talmon Biran Architecture Studio (Israel).
2012: Frank Gehry Architecture (LA); Mjölk (Czech Republic); Kevin Erickson with Allison Warren (Illinois & New York).
2013: Atelier Big City (Montréal); Public City (formely Plain Projects) with URBANINK and Pike Projects (Winnipeg); Aamodt/Plumb Architects with Rebecca Howdeshell (Cambridge, MA); Woolhaus Team (New York).
2014: Étienne Gaboury (Winnipeg); RAW with Kim Flynn (Toronto); Bella Totino with Kate Busby (Vancouver); Workshop Architecture Inc. (Toronto).
2015: Rojkind Arquitectos (Mexico DF, Mexico); Weiss Architecture & Urbanism Ltd. with Punchclock Metalworks (Toronto); KANVA (Montréal).
2016: Tanya Tagaq (Cambridge Bay/Iqaluktuuttiaq, Nunavut); Kirill Bair and Daria Lisitsyna (Russian Federation); Andreas Mede (Woodside, CA).
2017: Anish Kapoor (London, UK); Atelier ARI (Rotterdam, Netherlands); houdinidesign ARCHITECTS with Drew Klassen (Nova Scotia); Team 888 (Chicago).
2018: Guy Maddin (Winnipeg); b210 (Tallin, Estonia); Camille Bianchi with Ryder Thalheimer (Vancouver); David Alberto Arroyo Tafolla (Morelia, Mexico).
2019: Terje Isungset (Norway); NAICE architecture and design (Berlin); JAEMEE Studio (Jersey City, NJ); Jennie O'Keefe with Chris Pancoe (Winnipeg).
2020: Royal Canoe (Winnipeg) with Luca Roncoroni (Norway); Michael Maltzan Architects (LA); Ashida Architect & Associates (Tokyo); Onomiau (Paris & Strasbourg); Modern Office of Design and Architecture with MTHARU/Mercedes + Singh (Calgary); Mistecture Architecture & Interiors with Manitoba Building Trades and Ironworkers Union Local 728 (Winnipeg).
2021: Thomas Cheney Architects (Seattle); AtLRG Architecture (Winnipeg); Karina Leong (Malaysia) with Jeremy Chan (Hong Kong).
And over multiple years: Robert B. Trempe Jr. (Lincoln, NE); Tina Soli with Luca Roncoroni (Norway); The University of Manitoba Faculty of Architecture (Winnipeg); Mennonite Bretheren Collegiate (Winnipeg); Tec Voc High School (Winnipeg); Nelson McIntyre Collegiate (Winnipeg); Grey & Ivy (Winnipeg).

Consulting Team
Architects: Sputnik Architecture Inc.
Engineers: Crosier, Kilgour & Partners
Specialist Consultants: Luca Roncoroni
Builders: The Forks Renewal Corporation, Sputnik Architecture Inc.